No. 6 has ended. Last episode aired on 16 September, 2011. Hope all of you have enjoyed No. 6 and thanks for all the support.
Info
[
]
A 2011 anime created by Atsuko Asano. Visit the official website: http://www.no-6.jp/
Plot
[
]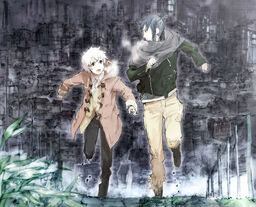 The story sets in a future model city called No. 6 in 2013. Shion is a boy who lives an exclusive area in the city. On his 12th birthday, he rescues a boy who calls himself Nezumi (鼠). He spends a night with Nezumi and next morning he disappeared without a trace. Four years later, Shion experiences a spate of incidents around him in which a deadly infection by parasitic bees leaves its victims to age rapidly. Not willing to be confined inside an adjustment facility for the rest of his life, he decides to run away from the city, and to the slum-filled West Block, where he meets Nezumi once again. From that moment on, Shion's life is changed forever...
Latest activity
[
]